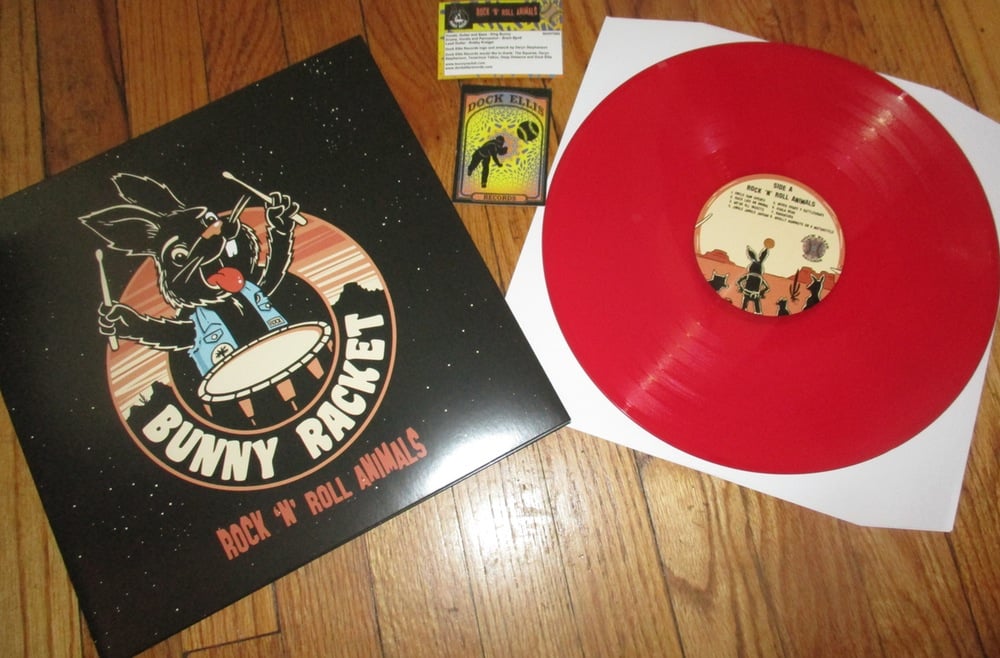 Bunny Racket - Rock 'N' Roll Animals red vinyl gatefold LP with baseball card insert
by Bunny Racket
£

15.99

/ Sold Out
---
The debut album from Bunny Racket! Only 500 copies worldwide, cherry red vinyl.
Bunny Racket is a live action series that follows the adventures of 'King Bunny' - a guitar wielding, skateboarding, nature-loving rabbit with a passion to share his love of rock 'n' roll. King Bunny travels the open highways in his old van, seeking adventure, inspiration and collaboration on his quest to create the greatest kids rock record of all time.
Bunny Racket's first album, Rock 'n' Roll Animals, sits somewhere between KISS, The Ramones and AC/DC teaming up with The Cat In The Hat.
Bunny Racket's creator, Andy Walker (who also plays the lead character King Bunny) collaborates with friend Brant Bjork (Kyuss, Fumanchu) who produced the album as well as playing drums, percussion and performing backing vocals.
The legendary Robby Krieger (The Doors) came on board to play lead guitar.
The result is a rocking series soundtrack that we could have only dreamed about when we were kids.
Please note postage options for delivery outside the UK:
For UK delivery please select 'UK'.
For European orders please select 'France'.
For everywhere else please select 'USA'.
Orders are posted as soon as we can get the goods to the post office and are sent in good quality mailers.